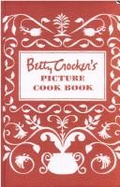 Betty Crocker's Picture Cook Book
By:
Betty Crocker
Reviewed by:
Eliza S., 13
Rating:
It was Amazing!
This cook book is full of wonderful cooking, baking, and hospitality tips. Some of the things you learn from it may be a little bit old fashioned, because it was originally published in 1950, but there are still a lot of great things to learn from it. One of things you need to know as you read this book is that some of the recipes include uncooked eggs, which in that case you just need to figure out a way to cook the eggs first. My mom used the recipe Texas Hash from this cook book and it was really yummy! After reading parts of this book I put together a menu from it that I plan to make for dinner some time. One thing that I think is cool is that the pictures are the original pictures from the 1950's edition. I love this book and I really want to encourage you to read it!
Recommended to:
Girls who enjoy cooking.